So baby girl tells me the other day that she wants to have a photoshoot. Well, my gracious! YES!! Usually they run from the camera and the idea of a photoshoot! Not wanting to press my luck, I ask her what she wants to wear for the shoot. And right away she tells me she wants to wear her pajamas. Yep, PJs.
You know, I never really thought about having a photoshoot while the kiddo was wearing her favorite pair of skin tight pjs, but I will work with it because she WANTS me to take her picture. Oh yeah.
To keep the scene more right, we did it in my room like it was morning. Which it wasn't. It was 4 in the afternoon, but that is when the light is actually in my room, so we are improvising some. She acted like a goof and a supermodel and a kid all at the same time. It was such a blast. About 150 shots later, she was done and I was thrilled!
The story alone is worth scrapbooking!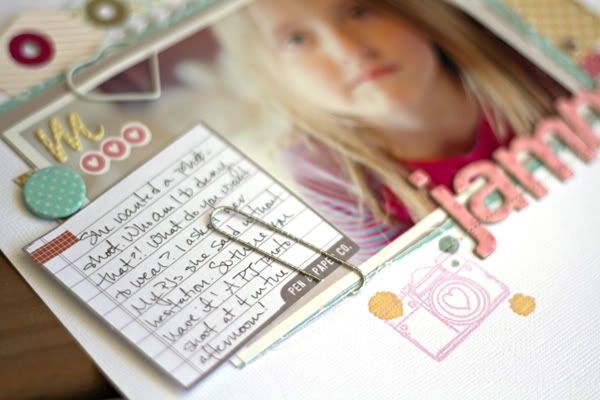 Everything on this page (except the twine) is from
American Crafts
. It is a mix and match of lines from the last CHA and then Chap. Make sure to check out all the new stuff coming out on the
AC blog
! It is really GORGEOUS!!!
Off to start my Saturday! Have a great weekend and thanks for stopping by!