So I know everyone is patiently waiting for the newest lines to actually hit the scrapbook stores. (I know I am.) But while we all wait, we can spend the time remembering the fun stuff released at Winter CHA.
One of the last releases from
Pink Paislee
was
Indigo Bleu
. It is a cute line with colors and patterns that could work for either a girl or a boy - which is always nice.
I played with it the other day and was so happy because it worked perfectly with a recent iPhone pic that I had and really wanted to scrapbook.
I love the glitter on the die cut shapes and the little star stamp.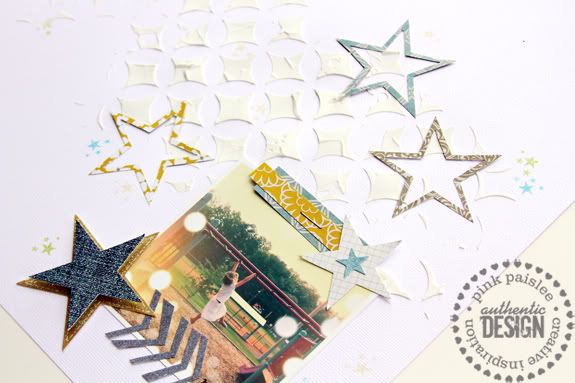 And the "be happy" stamp.
And just to tell, this is my youngest. And she crossed the monkey bars all the way by herself the other day. It was seriously celebration for us. I guess she really is ready for big kid school. At least that is what she tells me. :-)
Have a great day! Thanks for stopping by!