I love 5 year old kid talk. It is awesome. Actually, I love the way all younger kids talk. Not the fake baby talk stuff, but when they are really trying to converse and they just cannot get the correct pronunciation (or even the right word) out.
My 5 year old still has a few words in her ever growing vocabulary that don't come out just right. Her preschool teachers have been working on her over the last few years. She doesn't say "me do" instead of "I do" anymore, and she can say Chick-fil-A instead of Chicky-A now. But there are still a few that allude her. One is restaurant. It comes out reshshhrant. So cute! She even knows she is saying it wrong and tries to correct herself! Then there is any word that starts an "sw". Sweater is schweater. Sweet is schweet. And sweep is schweep. Another is butterfly. Imagine a lot of spit when she says budderphfffflishes. I guess I could correct her, and try to help her out, but she is growing up so fast that I just don't want to rush anything else.
So after talking with her, I decided I needed a page to remember this little 5 year old trait.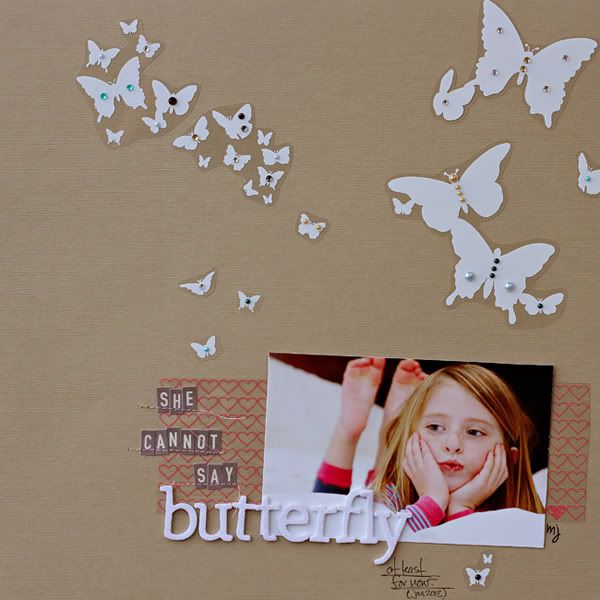 I know soon enough she will say these last few words correctly. But this, today, is something I need to remember.
All these butterflies (budderphfffflishes) were fussy cut from a
Hambly
overlay. (I embellished them with a little bling.) The hearts is from a piece of Hambly too!
Well, I am going to go hang with my girlie. She is watching me type this up. I am glad she cannot read it all yet so she doesn't try to delete my story.
Thanks for stopping by!