I had this big, huge long post all ready to put up yesterday and thankfully, I just saved it. After rereading it today, I definitely am glad that I did not share my vent to the world. Yesterday was a bad day, we all have them. I felt low, discouraged, unworthy. I felt disorganized and unfocused. Today I am so thankful that dear hubby worked all day so he did not have to deal with it and determined to make it up to my girls who did have to deal with it. (Maybe a special afternoon snack?)
But today is a new day. Gotta LOVE how that happens every morning. And I already know that today will be better.
I vented last night with pictures and paper. (YAY!) Seriously, this scrapbooking thing is therapy. I am no family historian. I don't always have a story. I do not have hopes that my girls will want these albums someday. I don't make them for them. I make them for me. I create pages because I love creating pages and that is really all. And last night
American Crafts
provided me with the tools I needed. Thank you!
This picture of the two younger girls was off my phone. All day long baby girl was SO excited about this "swimming" idea. She talked and talked and talked about it until her big sister got home from school. And then they both dived in. (Well, not really.)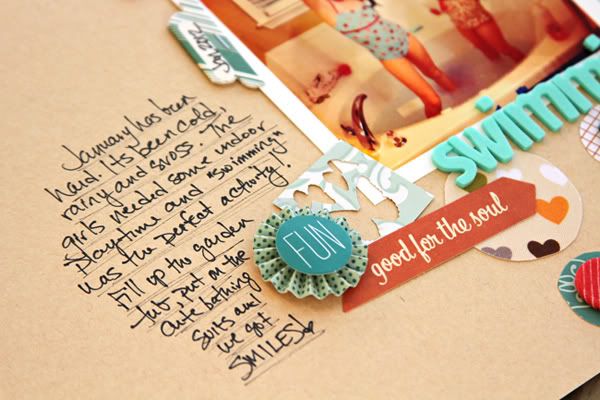 It was such a perfect way to spend an hour. Of course, my bathroom was soaked when it was all over, but it smelled like soap and they had big smiles and we counted it as the bath for the day, so I will overlook the dozen towels it took to clean it all up.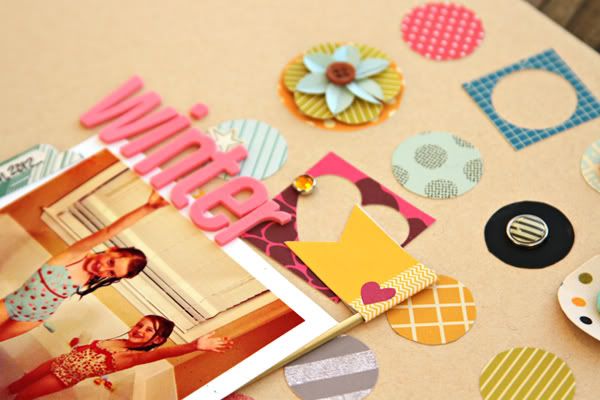 Plus, I love how happy all the AC stuff is. It just helps set the mood of the moment.
Thanks for stopping by, everyone!!!